KuberSpace 1.0

KuberSpace is experimental reverberation plugin based on custom build algorithm . it can produce very beautiful and rich reverberation. sidechain reverberation to dry signal, modulate reverberation, mid/side adjust reverberation. it sounds very special and deep.
price is 30Eur , VAT included

---
DDZynth 1.71
FFT, Granular, Wavetable ,Fm and Pm Sampler instrument, Vst, Vst3 for Windows and Vst & AU for Mac is available Now. 2 Sample slots to drug n drop or open with knob WAV files. scan true sample with mouse click, with right button smooth scan. On top in FFT processor with FFt size control , Transpose , Transpose lfo&amount, Start position and Phase lock button controls. Second is Granular with Density, Duration ,pitch&position randomization, Transpose , Transpose lfo&amount, Start position controls . 5 Lfos for Transposes , Start Positions and Filter. 2 little knobs near LFOs is note reset(bottom) and BPM synk(top). 7 LFO waveforms, 1 and 2 is from loaded wav files buffer. From both slots signals goes to mix section Slot1 and Slot2, aswell true FFT cross and morph mixers. Part of tables loaded to CrossFM and CrossPM sections on bottom left to make evolving FM & PM sounds. Fm&Pm can be mixed to FFT section as well. On Bottom right is filter(HP,BP,LP), reverb send and Gate send to make gated midi parts.
Manual pdf is here , Lite version with reduced functionality is FREE
70 Euro, VAT included.

---
KranchDD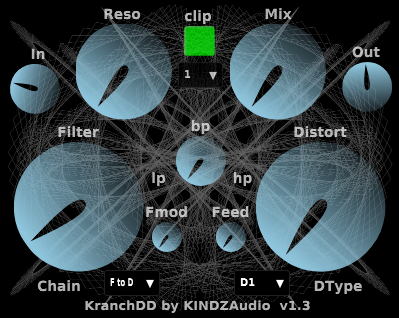 Kranchy Filter combined with different distortion algoritms.Awailable for PC (VST,VST3) and Mac(Vst,Au).Unzip, Install, make Music. There is no copy protection, I count on your responsibility)
new distortion algorithm and 3 clipper algorithms ,more balanced levels. frq range extended . Clipper level adjusted. Feedback for scream sounds, Fmod for extended dirt)
price is 20 eur. Vat included
updated to 1.3
---
KuberWide

Version 2.0 is here, totally new , reworked stereo image beast with room simulation
Stereo Image plugin, make super wide stereo effect , combination of 3 algorithms , phase shift(P) , comb delay(D) and room simulation. Room parameters can be randomized. UberWide button Cancels Midside . Awailable for PC (VST,VST3) and Mac(Vst,Au).
price is 25 Eur. Vat included

---
MentalV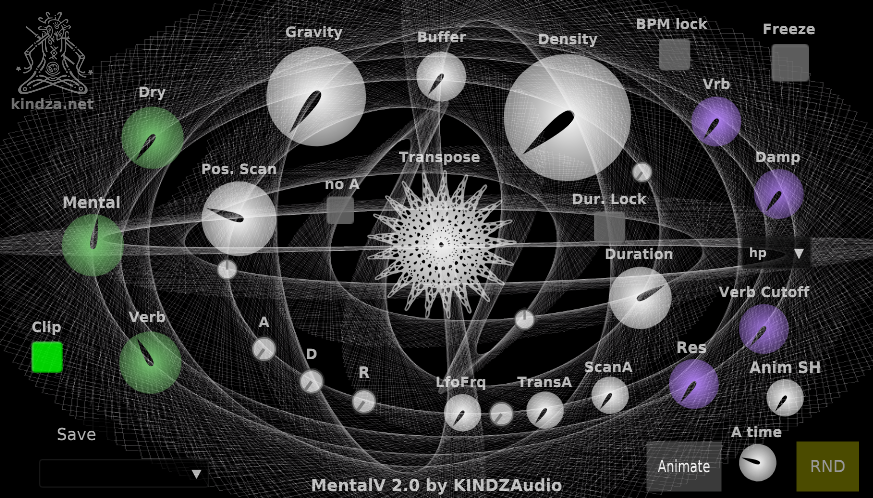 updated to version 2 with lots of refinements and enhancements.
MentalV is experimental plugin for Pc and MacOS , it grabs audio buffer from input and apply scanning granularization with pitch shift and reverberation. sound is very wild, check demo)
Main controls is Transpose, to transpose audio. Density, amount of granules, BPM lock synt it to BPM. Position Scan, scanning of audio buffer. Duration, granules duration, Dur.Lock mare granules size depend from Density so they not ovrlap. A,D,R is control of rise decay and release of single granules, this control is subtle, exist to prevent clicks. Lfo for Transpose and Scan also available. small buttons near Big buttons is stereo shift of parameter. Animation is animate few parameters realtime, speed of animation A time, Anim SH samplehold animation synked with bpm. RND momentary randomization of parameters. During Animation, animated parameters not available for control. BUffer, suze of buffer to hold audio. Freeze))
intro price is 40 Eur. Vat included.

---
Bundle
Buy all Plugins bundle for 150 Euros, VAT included